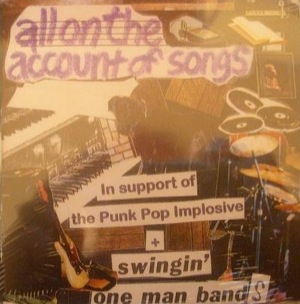 Various Artists All On The Account Of Songs - In Support Of The Punk Pop Implosive and Swingin' One Man Bands

Format: CD
Label: Red Carpet Ring
Price: $5.96
add to cart.

Description: The Maggies, Cutter Car, Paul A Vittum, Circa 78, Will Simmons, Joe Fredrick, the Kirks, Drew St. Aubin, Dingo Roi, Skywriter, Neener, I'd Rather Be Flying, and Terabithia.

Track listing:
1. the Maggies: "Nature's Afternoon"
2. Cutter Car: "Re-Start"
3. Paul A. Vittum: "When The Boat Goes Down"
4. Circa 78: "Judah"
5. Will Simmons: "I Thought Hard"
6. Joe Fredrick: "No Matter What/Tried"
7. the Kirks: "Waste My Time"
8. Drew St. Aubin: "Butterfly..."
9. Dingo Roi: "Man Envies The Plants"
10. Skywriter: "Petite Deceiver"
11. Neener: "My Friend Schmo"
12. I'd Rather Be Flying: "Lost"
13. Terabithia: "Nothing Stronger Than The Day"

return to quick index
visit twee kitten web store.