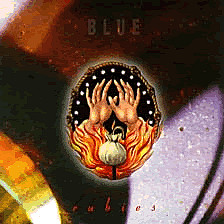 Blue Rubies Blue Rubies

Format: CD
Label: Asphodel
Price: $13.06
add to cart.

Asphodel Description: Formed in San Francisco in the mid 1980's, Blue Rubies made their debut as Asphodel's first release in 1992. With Susan Maunu on vocals, Mitzi Johnson on 16-string Renaissance lute and John Loose on percussion, they used their simple "chamber" format to cover a wild variety of sources, from Prince and the Clash to Rimbaud and Dorothy Parker. Called "unabashedly gorgeous" by the Oakland Tribune, Blue Rubies helped set the path for Asphodel's commitment to music that simply "didn't fit". Beautiful and powerful, absolutely unique.

Track listing:
1. "Rio Grande"
2. "Light Of Love"
3. "The Money Sign And The Cross"
4. "How Many Beds"
5. "Somebody Got Murdered"
6. "Gypsy's Lilt"
7. "You Never Found Me"
8. "Freddy's Dead"
9. "Don't Try"
10. "(You've Got To) Hide Your Love Away"
11. "The Four Winds"

return to quick index
visit twee kitten web store.