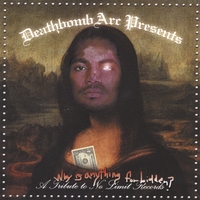 Various Artists Why Is Anything Forbidden? - A Tribute To No Limit Records

Format: CD
Label: Deathbomb Arc
Price: $10.04
add to cart.

Description: Open case. Features: Radio Vago, Das Moustacheprojekt, Squab, Rose 4 Bohdan, Persian Empire And Books On Tape, Slowcoach, Psychon Troopers, Celesteville, the Nether-Carols, Books On Tape With Chaki And Kerri Karrang, Wio, De Portables, Children of The Sun with The Swagger, Lil' Romeo, Minmae, Meths, Boozle Bam, Cock E.S.P. with DJ Enormous Genitals, and Creamsicle on Wheels.

Track listing:
1. Radio Vago: "Radio P (BOT remix)"
2. Das Moustacheprojekt: "Keine Begrenzung"
3. Squab: "Pan's Poets"
4. Rose 4 Bohdan: "Then She Flew Across The World (Pho Remix)"
5. Persian Empire and Books On Tape: "Trash"
6. Slowcoach: "Old Dirty Bastard Fuck Master P"
7. Pynchon Troopers: "Hautmesse-BHF"
8. : "R (Hot Car!)"
9. the Nether-Carols: "Dick In My Ear (Still Couldn't Fuck With My Sound)"
10. Books on Tape with Chaki and Kerri Karrang: "Who Ya Truckin' Wit?"
11. Wio: "Now, On Your Knees!"
12. De Portables: "Gangsta Rap (PooC4all)"
13. Children of the Sun with Swagger: "Digital People (R4b Remix)"
14. Lil' Romeo: "The Girlies (David Figurine's Lil' Hormoneo Remix)"
15. Minmae: "Press and Cutting Board"
16. Meths: "Master P's Theater"
17. Boozle Bam: "Fantabulous"
18. Cock E.S.P. with DJ Enormous Genitals: "(Never Gonna) Bounce"
19. Creamsicle On Wheels: "Soldier One"

return to quick index
visit twee kitten web store.