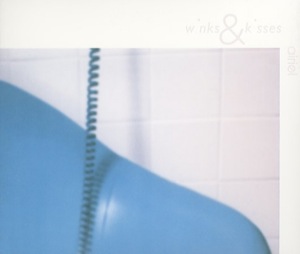 Airiel Winks And Kisses: Frosted

Format: CD-EP
Label: Clairecords
Price: $7.75
add to cart.

Clairecords Description: Airiel came to us several years ago by way of the usual demo CD. We were immediately stunned, but for some inexplicable reason, we haven't worked together until now.
\s\s\s"Winks and Kisses" is an ambitiously planned project of 4 EPs, strategically released 3 months apart (give or take) over the course of a year. The idea hearkens back to the late '80s / early '90s, when bands like Lush, Chapterhouse, Ride, Slowdive, and My Bloody Valentine were creating the whole dreampop/shoegazing genre by each bursting onto the scene with a staggering number of EPs every few months. The trend was hard to ignore, and was in fact rather brilliant, as it gave the listener a taste, a breath of this fresh air, while seeming like a tease, leaving the listener craving more. It's with this intent we bring you "Winks and Kisses"by Airiel.
\s\s\s"Frosted" is the first EP in the "Winks and Kisses" series. Gorgeous melodies, crystalline chiming guitars, Jeremy's vocals, and the rhythms of the drum machine create an intoxicating blend of sounds that will send you back to 1991 in style.
\s\s\s"Frosted", as well as each of the other releases in the Winks and Kisses series, is limited to just 750 copies. In addition, the final release in the series will include additional packaging and booklet to make a complete box-set.

Track listing:
1. "Liquid Paper"
2. "Kiss Me Slowly"
3. "Rainflower"
4. "Halo"

return to quick index
visit twee kitten web store.