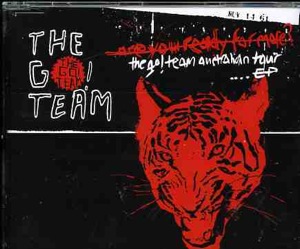 Go! Team Are You Ready For More?

Format: CD
Label: Pid
Price: $14.30
add to cart.

Vendor Description: Australian exclusive 2005 Limited Edition Tour EP features six tracks, some of which are exclusive to this release. Tracks, 'Bottle Rocket' (new Single Version), 'The Ice Storm', 'We Listen Everyday', 'Hold Yr Terror Close', 'Did You Feel It Too?' and 'We Just Won't Be Defeated'. Cortex. 2005.

return to quick index
visit twee kitten web store.