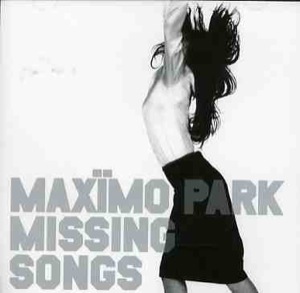 Maximo Park Missing Songs

Format: CD
Label: Warp Records
Price: $9.97
add to cart.

Vendor Description: After an incredibly successful World Tour, including recent sell-out shows in Australia and a UK Mercury Prize nomination, there's no denying that Maximo Park have a massive fan base now firmly set, as one of the top Indie rock bands in the world today. After huge exposure on radio via the singles 'Apply Some Pressure', 'Going Missing', 'Graffiti', 'The Night I Lost My Head' and 'The Coast Is Always Changing', the band now releases a fan-friendly CD comprising their B-sides and extra non-LP tracks recorded to date. Warp. 2005.

Track listing:
1. "Ai9"
2. "Isolation"
3. "My Life In Reverse"
4. "Fear Of Falling"
5. "I Want You To Leave"
6. "A Year Of Doubt"
7. "Trial And Error"
8. "Stray Talk"
9. "Hammer Horror"
10. "Apply Some Pressure (Original Demo Version)"
11. "Graffiti (Original Demo Version)"
12. "Once, A Glimpse (Original Demo Version)"

return to quick index
visit twee kitten web store.