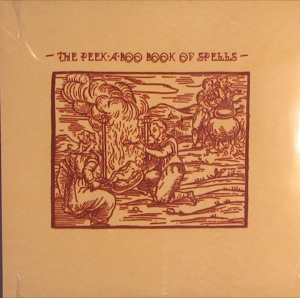 Various Artists The Peek-A-Boo Book Of Spells

Format: 12" Vinyl LP
Label: Peek-A-Boo
Price: $7.74
add to cart.

Description: 16 song collection featuring Junior Varsity, the Maulies, the Wontons, Port Vale, Knife In The Water, Silver Scooter, Prima Donnas, Super XX Man, Eskimo Kisses, Roar! Lion, etc.

Track listing:
1. Port Vale: "Witchcraft And Snowfall"
2. Knife In The Water: "A Spell For Some Summer Day"
3. the Process: "Proceed"
4. Junior Varsity: "Voodoo Voodoo"
5. Fivehead: "Sit A Spell"
6. Subset: "Twelve-Sided Die"
7. Roar! Lion: "Witch Hunt"
8. Trail Of Dead: "Witch's Web"
9. Silver Scooter: "Remembering The Middle Ages"
10. the Kiss Offs: "Red Underwear/Seductra"
11. Eskimo Kisses: "Bloody Mary"
12. Woozyhelmet: "Time Pops"
13. the Maulies: "Witches' Brew"
14. Wontons: "The Wizard"
15. Super XX Man: "Cast A Spell (Live)"
16. Prima Donnas: "Sugar Plum Fairy"

return to quick index
visit twee kitten web store.