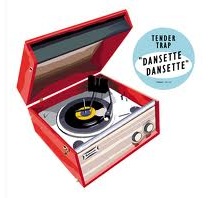 Tender Trap Dansette Dansette

Format: CD
Label: Slumberland
Price: $9.99
add to cart.

Slumberland Description: Tender Trap is now a proper girl-group! In contrast to the earlier lineup, which had a more electronic bent, the newly revitalized 'Trap has stronger links to the pop lineage of its founder members; Amelia Fletcher and Rob Pursey were in influential indie-pop originals and John Peel favorites Talulah Gosh and Heavenly, who released records on Sarah Records, K and Stephen Pastel's 53rd and 3rd, but neither band had this much vocal harmony going on. With two new extra voices (from guitarist Elizabeth Morris of 'Allo Darlin' fame and drummer Katrina Dixon), the band now combines the harmonies, oohs, ahhs and sha-la-las of classic girl-group pop with the stripped-down beats and dirty guitars of the Shop Assistants and The Vaselines. Bristling with crunchy guitars and effortlessly catchy tunes, Dansette Dansette proves why Fletcher and Pursey have been such a huge influence on today's generation of pop bands.

Track listing:
1. "Dansette Dansette"
2. "Fireworks"
3. "Do You Want A Boyfriend?"
4. "Suddenly"
5. "Girls With Guns"
6. "Danger Overboard"
7. "2 To The N"
8. "Counting The Hours"
9. "Grand National"
10. "Capital L"

return to quick index
visit twee kitten web store.