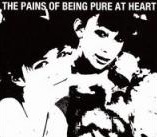 the Pains Of Being Pure At Heart The Pains Of Being Pure At Heart

Format: CD
Label: Slumberland
Price: $10.99
add to cart.

Slumberland Description: Since forming in early 2007, The Pains of Being Pure At Heart have become one of the most talked-about pop bands in years. Their distinctive style tidily distills all the great noise-pop precedents--early My Bloody Valentine, House of Love, Pale Saints, Rocketship--with incredible exuberance and energy in every song.

They have released a handful of singles on classy labels like Slumberland, Fortuna Pop!, Atomic Beat, and Cloudberry, each one issued to greater anticipation and even wilder reception. Critical acclaim has come from such varied quarters as Stereogum, Fader, Big Takeover, Indie Pages, Skatterbrain, Drowned In Sound, Indie-MP3, Clash Magazine, and countless others.

Following the band's ace Everything With You single and whirlwind Swedish tour, The Pains of Being Pure At Heart is an instant classic, packed with brilliantly executed pop gems that blend the rush of youthful enthusiasm with crafty arrangements, well-honed tunes and buckets of guitar racket. One instantly identifiable thing about a Pains record is the essential "rightness" of their tunes. They have captured the attention of pop fans around the world and raised anticipation levels for this album to a near-fever pitch.

Smashing tunes like "Come Saturday" and "Young Adult Friction" are classic, three-minute masterpieces that simply beg to be played on repeat. "Stay Alive" and "Gentle Sons" show the band can slow it down and still rock it, and "Hey Paul" is a brash a slice of noise-blast guitar pop. Handily transcending easy pigeonholes like "indie pop" and "indie rock," The Pains of Being Pure At Heart is just a great album that shows a smart young band fulfilling their potential and crafting a very convincing statement of purpose.

Track listing:
1. "Contender"
2. "Come Saturday"
3. "Young Adult Friction"
4. "This Love Is Fucking Right!"
5. "The Tenure Itch"
6. "Stay Alive"
7. "Everything With You"
8. "A Teenger In Love"
9. "Hey Paul"
10. "Gentle Sons"

return to quick index
visit twee kitten web store.