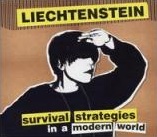 Liechtenstein Survival Strategies In A Modern World

Format: CD
Label: Slumberland
Price: $7.99
add to cart.

Slumberland Description: Liechtenstein is about to become the band that every indie kid's younger sister wishes she had started. Making a splash on the international indie pop scene with two hard-to-find but attention-grabbing singles, 2007's Stalking Skills and last year's Apathy, the Swedish trio of Renee, Naemi, and Elin will make waves with their unique take on the girl-group post-punk sound of early-'80s groups like The Au Pairs and Kleenex. Slumberland is thrilled to team up with the band's hometown label, Gothenburg's Fraction Discs, to bring their subversive pop to a larger audience in the form of their new mini-LP, Survival Strategies in a Modern World.

With the nine-song Survival Strategies, Liechtenstein not only delivers the spooky harmonies and loping basslines that earned their singles such critical attention, but they also stretch out into realms only hinted at before. The band not only gives Love Is All a run for their money in the Swedish post-punk revival department, but they can also fit right in alongside labelmates The Pains of Being Pure at Heart (not to mention "lost" bands of the C-86 era like Swiss buzzsaw-pop girl-group Chin Chin) in delivering manic pop thrills. Clocking in alongside the post-punk flavor of lead track "All at Once" and "White Dress," for example, comes the bubblegum sugar rush of "Roses in the Park." Liechtenstein also has more than angular post-punk tricks up their sleeve; they channel the naive-yet-proper Oxford charm of Talulah Gosh or The Carousel on songs like "Postcard" and "The End."

Mixing its '80s influences with a very fresh and contemporary enthusiasm, Survival Strategies in a Modern World packs so much excitement into less than 23 minutes that you will discover a new favorite song with every spin. At least, that is, until your sister sneaks into your room, snatches it (along with your Vivian Girls records and rare Mo-Dettes singles), and takes her own shot at indie stardom. Better buy two.

Track listing:
1. "All At Once"
2. "Postcard"
3. "Sophistication"
4. "By Staying Here (We Will Slowly Disappear)"
5. "Wallpaper Stripes"
6. "Roses In The Park"
7. "Reflections"
8. "White Dress"
9. "The End"

return to quick index
visit twee kitten web store.