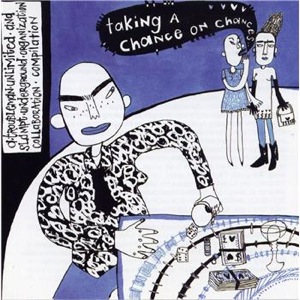 Various Artists Taking A Chance On Chances

Format: CD
Label: Slampt
Price: $8.01
add to cart.

Description: Slampt/Troubleman co-release compilation with Peechees, Red Monkey, Monorchid, etc.

Track listing:
1. Red Monkey: "R.E.D."
2. Atom And His Package: "Karpathia"
3. Small Black Pig: "50 Year Ordeal In The Coal Cellar"
4. Monorchid: "Knee Deep"
5. Bilge Pump: "Archaeological Diggin"
6. Assembly Line People Program: "Head Found With Note"
7. Missy X: "Robot Predecessor Of Girl No. 1"
8. Russia: "Bears Blood"
9. Bette Davis And The Balconettes: "White Food"
10. Old Hearts Club: "Hot Day In Mexico"
11. Peechees: "Second Grade"
12. Sally Skull: "Heaven"
13. Young Pioneers: "Everybody's Protest Novel"
14. Milky Wimpshake: "Hey! Brother Mine"
15. Computer Cougar: "Stunt Pilot"
16. Tunic: "Miss Midge Wood"
17. Replicants: "Set Shoot Develop Flash"
18. Witchknot: "McPunk"
19. Full Boney: "Sightless"
20. International Strike Force: "All-Girl Band"

return to quick index
visit twee kitten web store.