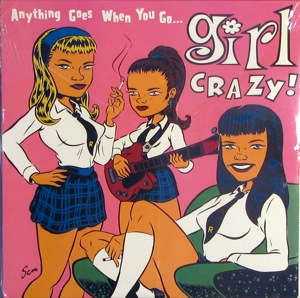 Various Artists Girl Crazy!

Format: 12" vinyl LP
Label: Remedial
Price: $7.51
add to cart.

Description: 17 song Girl compilation featuring Ninety-Nine, the Chubbies, Catfight!, Bombshell, Junior Varsity, the Eyeliners, Swoons, Me First, etc!

Track listing:
1. Catfight!: "Not In Love"
2. the Eyeliners: "You Lose"
3. the Chubbies: "The Vegas Song"
4. Junior Varsity: "Party Tonight"
5. the Neptunas: "Shapes Of Things To Come"
6. Budget Girls: "Tinklebee"
7. Me First: "Drunk And Walking Home Alone"
8. Maow: "Just Fine"
9. the Hissy Fits: "Wish"
10. the Beautys: "Small Meat Driver"
11. Red #9: "Dependency"
12. Bombshell: "Condescending Boy"
13. Kitty Bad Ass: "Pricks"
14. Swoons: "My Grandpa Is Joey Ramone"
15. East Coast Panic: "All You"
16. Ballgagger: "Sidedish"
17. Ninety Nine: "Woekender"

return to quick index
visit twee kitten web store.