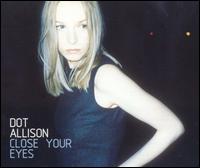 Dot Allison Close Your Eyes

Format: CD-EP
Label: Heavenly
Price: $4.50
add to cart.

Description: Nice electronica dance-pop from the former One Dove front woman. Open case import.

Track listing:
1. "Close Your Eyes"
2. "Mr. Voyeur"
3. "Close Your Eyes (Slam Pressure Funk Mix)"

return to quick index
visit twee kitten web store.