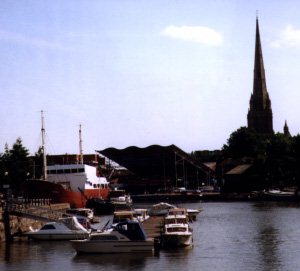 The End of an Era: the Sarah 100 Party
The Thekla. Bristol, England. August 28, 1995.

Heavenly, Blueboy, Orchids, Harvey Williams, Boyracer, Brighter, Secret Shine, Blueboy (Acoustic).
Article by Scott Zimmerman. Photos by Aurore & Scott.

The thought of travelling to Bristol, England for the Sarah 100 party was inspired in me by the talk about the event on the Internet's indiepop email list. Though that thought was originally about on the seriousness level of travelling to the moon for a weekend, I could not get it out of my head, and neither could my friend Aurore.

For Sarah has been no ordinary record label. Over the past eight years, in part by releasing records by the likes of the Field Mice, Even as We Speak, Heavenly, and the Orchids, Sarah had in the minds of many established itself as perhaps the most perfect pop music label ever. And Sarah had many other attractions, in addition to the great music -- the always amusing 7" inserts, the lo-fi record sleeves, the Sarah newsletter, the great charm in the writings of Matt and Clare. The indie spirit. It's been a label to bond with, and the Sarah 100 Party, in commemoration of the last-ever Sarah release, would signify the end of it all.

As the event neared, what I viewed as the biggest obstacle in regards to taking the trip, getting the time off from work, amazingly became a possibility for me. So I went a bit crazy, took a not too cheap plane ticket purchased less than three weeks before the show, and chose a distant return date giving me nearly three weeks to spend in Europe. Suddenly, I found myself staring at a dream vacation just 14 days away. For it, I had only one night's activity planned. Beyond that, who knew, but it would be a great trip! At this point, even getting into the concert would be no guarantee, as tickets were supposedly nearly gone, and Aurore and I did not have ours. But thankfully, about a week before the show, Aurore received our pair of concert tickets, along with a map of Bristol, and a note from Matt.

And what cool looking tickets they were! Complete with a tombstone on which was inscribed "Sarah Records 1987-1995" along with a list of groups to be performing.

And what a cool list of groups! I had seen Heavenly a couple of times before, but as for most of the rest of the groups, I had previously felt quite unsure of ever getting the chance to see them, since American tours of Secret Shine and the Orchids just do not happen! And now I would be getting to see all of these somewhat mythical artists on the same night! Brighter, Boyracer, Blueboy, Harvey Williams, the Orchids, Secret Shine, and Heavenly! The magic day: Monday, August the 28th. The magic place: aboard a boat named the Thekla.

We arrived in London on the Thursday before the concert. I'd never been to London before, so I was quite excited about the days ahead--the famous sights, the cool accents, and especially about the records I might be able to find. OK, so the prices over there generally were not too hot, but when it came to those lovely Talulah Gosh singles, the steep prices really didn't matter! And all those Primitives singles, which actually had decent prices! Ooh lala! And that nice little Sweetest Ache test pressing with the short note signed "Clare Wadd"...

So, yes, London was great, but this article is about a concert in Bristol, so I must be moving along. We took a bus (or as they say over there "a coach") to Bristol on Sunday, as Monday would be a bank holiday and the end of a three day weekend which means excessive transportation difficulties, and that was something which we of course wanted to avoid.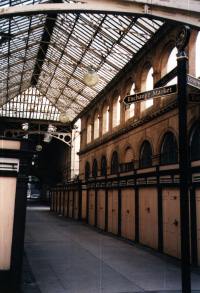 Anyhow, there we were in Bristol, suitcases in hand and as of yet no place to stay. We trekked on to the Tourist information center, encountering the famous Glass Arcade (pictured at left) on the way, and inquired as to lodging in the area. Unlike all the other cities that we would later stay at in England and Wales, Bristol had nothing very cheap that was close to the town center. The best we could do was to locate a Bed & Breakfast that was about a forty minute walk from the Thekla, and as no buses run at 2am in the morning, we would be certainly having quite the full day having to walk back to our place after the show, as being good popfans we would probably be too cheap to call a taxi.

After finding that B&B, which turned out to be really quite lovely, we spent the rest of Sunday evening looking around Bristol at all sorts of vaguely familiar places, but this time in full 3D real-life color, rather than in faded monochromatic Sarah 7" sleeve/insert style. Our Monday was spent in the same manner, with many photographs snapped during our wanderings. In a way, we were living the life of Clare and Matt for a day. Bristol was quite a charming town. No wonder they enjoyed sharing its sights with the world the past eight years.

As the time of the concert approached, we went to the Thekla, sat outside it and people watched for awhile. Peter and Amelia of Heavenly were the only two pop stars we actually recognized before the show, though we later realized that plenty had been hanging out around us, as they ended up singing and playing their instruments in front of us. The crowd gathered around the boat was obviously quite international, judging by the wide assortment of accents.

The doors opened around eight. Unfortunately the beautiful admission tickets could not be kept after entering the boat, but in return Matt and Clare generously handed out "Sarah 100 balloon" balloons, and a card containing a list of times when each group would perform.

We were among the first dozen to enter the Thekla, so we had no problem securing spots right at the stage (for the time being). After a short wait, Blueboy took the stage to do a two person acoustic set. It was very Sarah-esque, in its level of sensitivity, however being not too familiar with Blueboy, the songs did not strike me perhaps as well as they should have.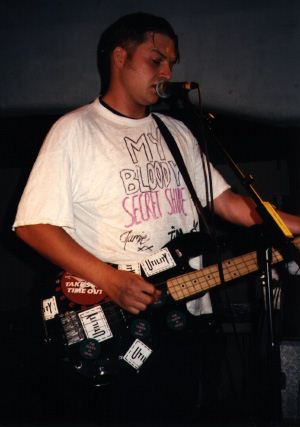 Next up was Secret Shine, the group that many love to say are inferior copycats of My Bloody Valentine. And apparently the band must be bombarded with that opinion, too, as the lead singer wore a "My Bloody Secret Shine" shirt. I had never noticed before that Secret Shine and Valentine rhyme and have the same number of syllables. Obviously, there's a bigger Secret Shine/My Bloody Valentine conspiracy going on than to which I've ever been aware! Anyhow, the music: lively noise, a wall of glee. It was quite an ace performance, though nobody felt like grabbing from the stage that second copy of the set list. Well, until I did so myself. Another Sarah 100 party souvenir! And later, a Heavenly set list became ours, too.

Setting one of the highest musical peaks of the night, Brighter followed Secret Shine and performed a set of pure glory. The applause and screams were huge. What a hit! With that classic jangle, Brighter seems to have one of the simplest sounds of any Sarah band, yet they exploit it so fully. Perfection.

I was not too thrilled when Boyracer took the stage. I was still unthrilled that Brighter had to leave. I think I was quite unthrilled about how short all of these sets were going to be. Twenty, thirty minutes. However, Boyracer did have to perform, and I thought that in this case the time limit would be a blessing. Their set would be over with quickly. And perhaps it was over even too quickly. Their songs still may be largely unappealing, but live, hey, they were forgivable. I think they are the least Sarah-esque of Sarah recording artists, but Stuart's guitar antics, and amazing expulsion of energy was quite a lot of fun to watch, anyhow. I actually could have stood a few more songs. Maybe Boyracer is not entirely bad after all!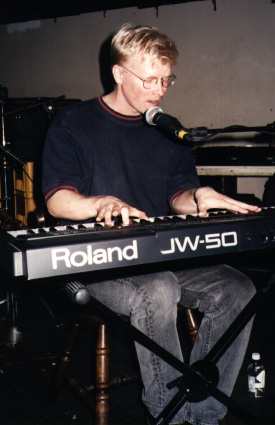 Harvey Williams at the keys
And not to turn this into the anti-Sarah group review suddenly, but before entering the Thekla, we heard the sounds of Harvey Williams rehearsing inside. He was playing what sounded like a very nauseating, much too light-weight pop song. Too light even for Sarah standards. It was hard to stomach. I was thinking about this before he went on stage. As it turned out, his set was quite a delight. His keyboard-pop was not as dreadful in person, and when he moved onto the guitar, the music was definitely very pleasant. Yet again, it was a shame to see an artist too quickly leave the stage.

Like Brighter had done earlier, the Orchids brought another enormous peak to the gig. I was not sure how the Orchids would sound without the use of keyboards and without the female backup vocals that are often used in their songs. Their reliance on the basics of two guitars, bass and drums worked splendidly though. And now I so very much want to see this group play a lengthy gig. Their half dozen songs were incredibly engaging, and after they left the stage the response from the crowd for an encore was like nothing I had ever experienced.

Unfortunately, a strict schedule was being adhered to, hence no bands before Heavenly were to be allowed to perform encores. The crowd definitely did not want to accept this arrangement, as after the Orchids finished it seemed the cheers and applause went on for almost as long as the set itself. As soon as it started to settle down, it would rise back up very loudly. Over and over and over again. It was quite amusing.

Between the live sets, recorded works were played from all the Sarah recording artists that were not performing, and at least three or four of those songs must have passed before the crowd settled down, finally accepting the fact that the Orchids would not be returning. Applauding over these songs was actually more fun than trying to listen to them, as the sound system used to play them did not sound very good at all, especially with all of the chattering going on. That was a bit of a shame. Though when the Sea Urchins' "Pristine Christine" came on earlier in the evening, that predictably did illicit a lot of sing along, at least for the "Christine" part.

Back to the performances, Blueboy made a second appearance on stage, this time as a full band. This was the performance I enjoyed least of the night. I was somewhat shamefully happy to see them leave the stage, not so much because the music was bad (though it was a bit noisy and messy), but because the music just was not good enough to make up for the crowd that had become suddenly so rowdy. I guess the alcohol had finally started to take its toll, showing that fans of Sarah Records really do not act much differently than the moshers at Guns 'n' Roses shows, once properly inebriated. How disappointing. And OK, I admit it, maybe I am whining. Maybe I was just perturbed because it made it more difficult to take pictures!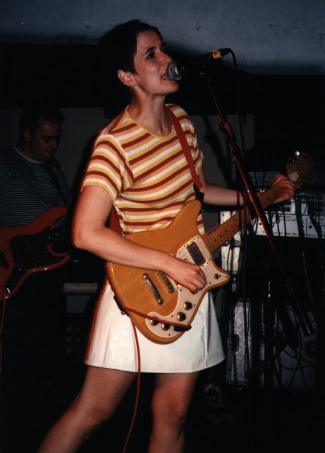 Amelia Fletcher, singing her heart out
And taking a picture while Heavenly was on the stage was even a greater challenge. Heavenly put the crowd into a frenzy greater than during Blueboy's set, so with all the pushing and lunges of people trying to get into the front row, it was exceptionally difficult to steady one's self for photography. Being rammed into the stage every ten seconds was not remarkably pleasant, so I did not enjoy this Heavenly set as much as I would have liked. As far as I could determine, with what little attention I could devote to it, their performance was brilliant, complete with a few new songs. And they were not completely opposed to playing older tunes. "Our Love is Heavenly" and "I Fell in Love Last Night" both made it into the set. Opposition came in regards to playing anything from their masterwork Heavenly vs. Satan. Even some Heavenly fans did not want to hear those songs live. Amelia explained that Mathew would only perform "Shallow," for example, if he was completely drunk, then as some of the crowd urged him to drink more, others responded in the converse. Most amusing was the "Mathew, get sober!" instruction. So I feel as if I will never get to experience "It's you" or "Lemonhead Boy" or "Cool Guitar Boy" performed live. Sigh. And unfortunately, Heavenly did not feel like doing an encore. Amelia came out and sort of apologized for her bandmates. However, after apologizing, she, by request, finished with the sad, acappella number "So?" As Amelia said, an appropriate kind of song to end the night. This funeral of sorts.
There are a couple dozen pictures from this gig that you can download!

Bristol, England:
The Avon, with the Thekla (red boat) shown docked at left (16k) (Scott)
the Glass Arcade (16k) (Aurore)

Blueboy:
the bassist (20k) (Aurore)
the guitarist (13k) (Aurore)
the drummer (26k) (Aurore)
The singer: "Hey you! In the balcony!" (13k) (Aurore)

Boyracer:
Calm girl bassist (26k) (Aurore)
Stuart Boyracer screaming! (21k) (Aurore)
Guitarist wearing the K "Dub Narcotic Sound System" shirt (14k) (Aurore)

Brighter:
Mysterious, pretty looking photo of Brighter's singer (36k) (Scott)
Singer/guitarist with acoustic guitarist in the background (23k) (Aurore)

Heavenly:
Amelia Fletcher with guitar, singing at the mic. Same as photo on this page. (20k) (Aurore)
Amelia singing, without guitar (20k) (Aurore)
Cathy Rogers at the mic, behind keyboard (23k) (Aurore)
Cathy again. Like above, but different angle. (25k) (Scott)
Smiling, dancing Amelia, with bassist Rob Pursey in the background (33k) (Scott)
Mathew Fletcher: "What are all of these people doing in my bedroom?" (22k) (Scott)
Mathew Fletcher: "I'm going to hit it this time!" (29k) (Aurore)
Amelia screaming, with tambourine in hand (21k) (Aurore)
Amelia at the mic, without guitar (22k) (Scott)

the Orchids:
Orchids drummer Chris Quinn (24k) (Scott)
Orchids singer/guitarist James Hackett (23k) (Aurore)
James, again (25k) (Scott)

Secret Shine:
Guitarist/singer in "My Bloody Secret Shine" tee. Same as photo on this page (19k) (Aurore)
Secret Shine girl singing (14k) (Scott)

Harvey Williams:
Harvey with 12 string guitar, and guitarist in background (26k) (Aurore)
the violinist (22k) (Aurore)
Harvey at the keyboard. Same as photo on this page. (14k) (Aurore)


See also the Sarah 100 Party interviews.