Some Velvet Sidewalk, Lois, Hundred Holiday, the Lefties. March 9, 1995. Bottom of the Hill. San Francisco, California.
Left-handers are generally supposed to be a tad more pre-disposed to creative and artistic activities, so lately I've been wondering if the world has been deprived of a great number of left handed guitarists, due to a possible lack of suitable guitars. When I venture into guitar stores, leftie guitars never seem to jump out at me. If the scarcity of such an instrument is more than just a figment of my imagination, this could turn left-handers away from guitars, as other instruments aren't quite as difficult for a left-hander to adjust to--keys, percussion, kazoos, for example.
I was thinking about the left-handed guitarists topic before the Lefties, an East Bay band, took the stage. I figured there'd be a good chance the band would be made up of all left handers, but apparently it was not. In the trio, two played guitar, both of the right-handed variety. How unfortunate! I was looking forward to the novelty of a mirror image-like stage.
But after the initial disappointment of yet another right-handed looking group, I was pleased to experience a performance by a group that seemed genuinely happy to be on the stage! Their instruments sounded, oh, a tad out of tune, but it wasn't all that bothersome, because behind the sort of amateurish sound was a cool enthusiasm. After about five songs, however, I began to lose interest. Perhaps at the core, the first five songs were great and the rest declined, or perhaps the out-of-tuneness finally got to me. It's sometimes difficult to discern the fine line between ineptitude and genius.
Another East Bay trio followed the Lefties -- Hundred Holiday. I liked the band at certain moments, but for the most part their set of noisy guitar playing, and crashing percussion impressed me very little.
Lois, with all strings intact!
Lois, the main draw of the evening, came on next. I'm getting the impression that a Lois show just wouldn't be a Lois show without at least a few broken guitar strings to show for it. She broke a couple before even being able to make it through one song! Luckily, she's able to entertain even when her guitar fails her. And that first guitar certainly failed her miserably! When she switched to another guitar, her playing started up on a nervous and hesitant, actually un-Lois-like path. It was rather odd. However, around the third or fourth song, her rhythm and voice suddenly righted themselves for the remainder of the set--a set that was far too short, but a super treat, anyway! This probably wasn't one of the most brilliant Lois gigs, but even so, the good vibes thrived!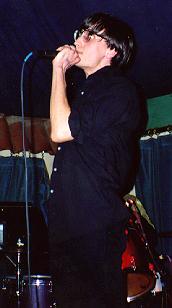 Some Velvet Sidewalk vocalist
The crowd thinned out considerably for Some Velvet Sidewalk, Lois' K Records labelmates. A real shame, because the group was quite outstanding, and left a much better impression on me than their recordings ever have. Groovy bass, rockin' guitar, a singer with stage presence. That is to say that at least he was not afraid to move around and do various "meaningful" pop star posings. And yes, that was permissible because he wasn't, say, the singer for Candlebox. I might, however, be a mutant in regards to my positive opinion of the performance, because the applause seemed reserved to say the least. Perhaps everybody was too caught up in figuring out just what the heck the singer was mumbling about leading into songs?
-Scott Zimmerman
Downloadable pictures from this gig:
1. Some Velvet Sidewalk (same as photo on this page)
2. Some Velvet Sidewalk -- bassists, vocalist, drummer
3. Some Velvet Sidewalk -- guitar playing closeup!
4. Lois, playing guitar, away from microphone
5. Lois (larger version of photo on this page